TEAMBUILDING, VITALITEIT & WERKGELUK
Keuzehulp serie bokshandschoenen
Adidas heeft verschillende type bokshandschoenen, namelijk de Speed en de Hybrid lijn. Deze lijnen hebben weer verschillende series, namelijk (Speed of Hybrid) 50, 75, 100, 200 of 300. Hoe hoger het getal van de serie, hoe hoger het comfort, kwalitatiever het materiaal en strakker het design. Dit merk je aan de binnenvoering en de ondersteuning en demping tijdens het trainen.
Wij hebben de verschillende lijnen (Speed en Hybrid) en series (50, 75, 100, 200 en 300) onder elkaar gezet zodat jij de keuze kunt maken welke lijn en serie het beste voor jou is.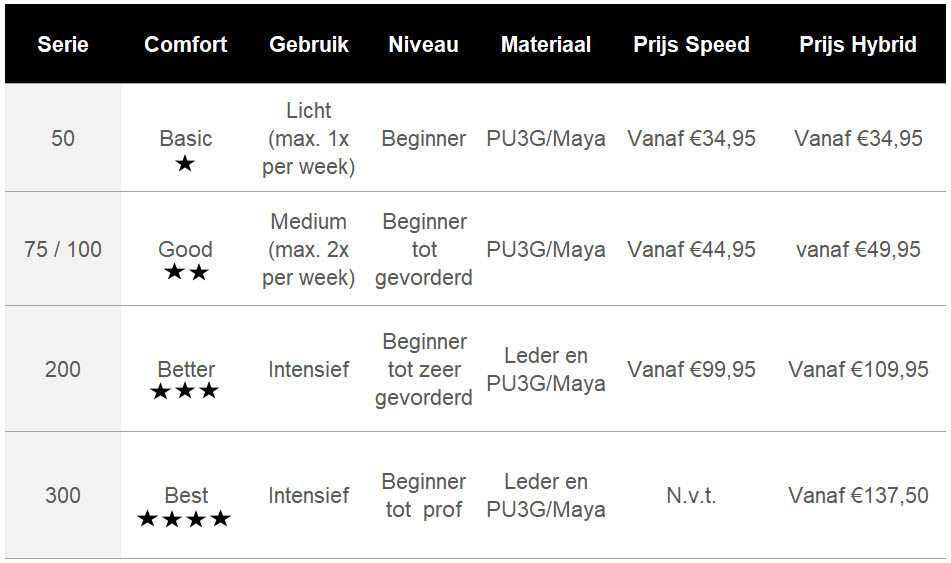 Heb je nog geen antwoord gevonden op jouw vraag? Neem dan contact met ons op, wij beantwoorden je vraag binnen één werkdag.